After a delay of two years, we are now with the new N gauge layout!
Over the course of the last week or so, the basic framework for the four sections has been put together.
We are using 12 mm ply, and the framework is built from strips 50 mm high and 1220 mm long, which were pre-cut when the wood was purchase from Savoy Timber, and I have to say to a surprisingly high accuracy. For the dropped board, two strip are 120 mm high. All were painted with PVA glue to seal the wood.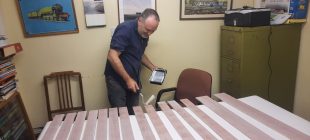 Holes for bolts and positioning bits, which will be used to connect the four sections, were drilled in pairs to ensure they were fit together later.
Dave 3D-printed two jogs to along holes for drilling the holes for screwing to ensure accuracy. "Gorilla" glue and two screws keep each joint together.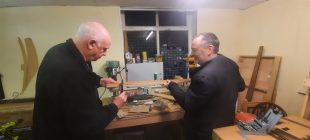 Pre-drilling the holes prevented the wood split, though we did experience that a little bit. A clamp and strong glue cured that.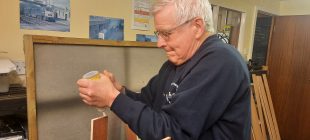 We also made three pairs of legs – two more to go. But we need more wood for that.
Thanks to Andy P for the photos. I realise I should have taken a couple of what we actually made. Next time.