Welcome to the Preston and District Model Railway Society
A message from the Chairman to all members:
I and the Committee wish all the membership and anyone else who visits our site, " A Very Merry Christmas and A Happy New Year" .
We hope that 2021 will bring an end to the Covid pandemic and we can all get back to some sort of normality.
As you are aware we have cancelled next years exhibition but hope that it will be possible to resume in 2022.
Various members have been making regular visits to the club rooms just to carry out a visual inspection making sure all is ok.
All the best for the future.
John.
As and when it's announced that it's safe to open the Clubrooms we will let you know as soon as possible.
---
OUR CLUB ROOMS are in Unit 12, Aqueduct Mill, Aqueduct Street, Preston. PR1 7JN.
This is a comfortable and modern industrial unit situated behind the Mill. Here the Society's layouts are displayed and in use. There is a brew room, demonstration room and library facilities.
(From Fylde Rd, immediately left after the railway bridge, through the large gates, and directly ahead) (click here for a Google Map with current traffic and weather)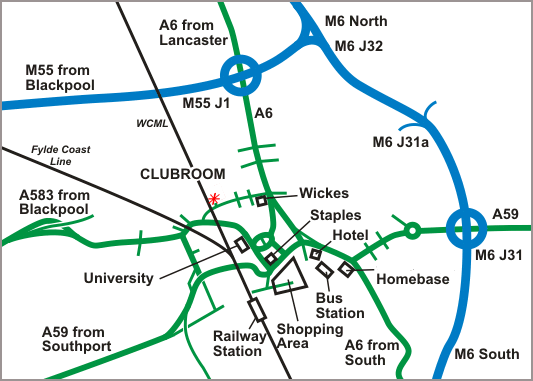 ---

We currently have in excess of 35 male and female members. Everyone is welcome. However, junior members under the age of 16 years must be accompanied by a responsible adult
The Society meets each week on
Mondays 7.30 p.m. to 10.00 p.m.
Wednesdays 2.00 p.m. to 4.00 p.m. and 8.00 p.m to 10.00 p.m.
Fridays 8.00 p.m to 10.00 p.m.
Note: Club rooms are not open bank holidays or on the first Monday of October (for the AGM).

---
Our layouts in the model press:
Congratulations to Karl Smith, whose layout "Fallahill" is featured in the December 2020 of

, together with excellent photos. We need to see about getting a proper write-up for the web site.
"Ardson" was featured in

in January 2008 and "Tellem Summit" in August 2014.
Our large new 00 layout, "Euxton Junction" which gives more scope for both D.C and D.C.C. operations is set up and running in the club rooms, was debuted at our 2016 exhibition and has appeared as layout of the month in the October 2018 edition of

magazine.
"Tellem Summit" has been photographed for a further article in

which is awaiting publication.
"Bee Lane" was in

November 2008, and in

in September 2015. "Bee Lane" is now retired
---
We normally hold an Exhibition on the first weekend of March each Year.

Owing to Covid restrictions our next exhibition has had to be postponed until 5th/6th March 2022
---