Some previous club and members' layouts and models.
Just scroll down or click on any link to get to a specific entry.
Most are slideshows, and images will automatically change at about 10 second intervals.To move to the next yourself just click on an image.
Longridge by Norman Parker
Swaledale/Alston our first 'N'gauge layout
Tynn Godd, 009 mid 70s
Askam Knowt, 'N' gauge 80s
Llwyn Grug, Les Nehrlich's much exhibited 'N' gauge layout 80s/90s
Early 7mm Narrow Gauge Locos, early 90s
Grasmere, 7mm scale narrow gauge
Thurston, by Eric Farragher 'N' 1990s/early 2000s
Pont y Mogin, garden SM32 live steam
Bee Lane, well known at exhibitions now retired
Maudland Sidings, now retired and stored
---
Our first OO layout (Early 1970s)
This 4mm scale layout, on timber shot bolted to the walls of the club rooms, was so substantial that it had to be demolished with the building when that became inevitable. Stations were named after CMEs of pre grouping companies and drawn by ballot. In addition to the main lines there was a small narrow gauge branch. The track plan is included amongst the pictures which first appeared in "Model Railway Constructor" September 1972.
---
Longridge
Former member Norman Parker constructed this layout and wrote a book on the prototype [Parker, N. (1972) The Preston and Longridge Railway, Oakwood Library of Railway History No. 30, Lingfield: Oakwood Press]. He bequeathed this layout to the Society and it was resurrected as the only suitably sized portable layout available for the exchange to Twin Town, Recklinghausen, in 1977. The only pictures we have available are shown below. They were taken at the exhibition in the Ruhrfestspielhaus. Those who know Longridge may distinguish the Townley Arms Hotel and the extension to the quarry beyond the station.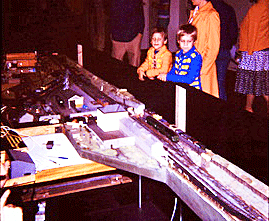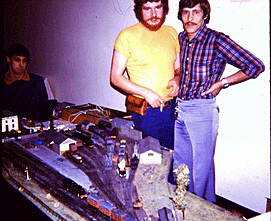 ---
Swaledale/Alston
PDMRS's first completed N gauge layout (late 1970s).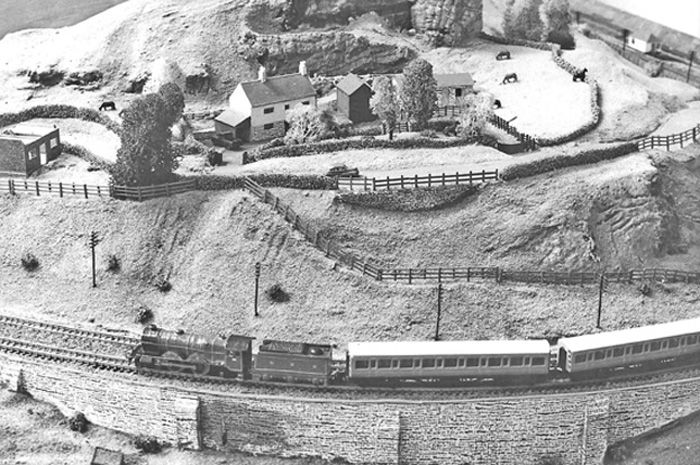 ---
Tynn Godd
00/9 layout (mid 1970s into the 1980s)
The black and white photos and the track plan show the layout in its original form. The Wharf Station was later rebuilt to include some 00/12 and mixed gauge track andpoint-work. The black and white photos accompanied an article in the May 1979 edition of Model Railway Constructor The colour shots are of Tynn Godd Junction and incline.
---
Askam Knowt.
Our second and award-winning N gauge layout, 1980s & 90s.
---
Llwyn Grug.
N gauge layout, well known on the exhibition circuit (Mid 1980s onwards) in both its early and later extended forms. It featured many animated scenic features, two of which (the cliff cable railway and fairground) are shown in the photos. The chairoplanesreallydo "fly" and the gallopers rise and fall.
---
Early 7mm Narrow Gauge locos & Stock
Pictures published in Model Railway Constructor Magazine (early 1980s). Forerunners to our layout "Grasmere"
---
Grasmere
Pictures from an article published in Railway Modeller Magazine January 1991.
---
Thurston
After many exhibition appearances (1990s and 2000s) this layout by Eric Farragher is now in private ownership outside the society.
---
Challenge Series.
These three layouts were built following a challenge issued by the Exhibition Manager to produce the type of layout which could be built at home using readily available "off the shelf" items of track, buildings and ready to run stock by a Dad and his Lad (or Daughter). The first two were called Challengeand Son of Challenge. Ardson was the third iteration, the name being derived from the surnames of the builders, Dave Leonardand John Wilson. These layouts appeared at 20 of our exhibitions and more than 10 others outside Preston, mid 1980s to 2010. They are now in private ownership outside the Society.
---
Challenge.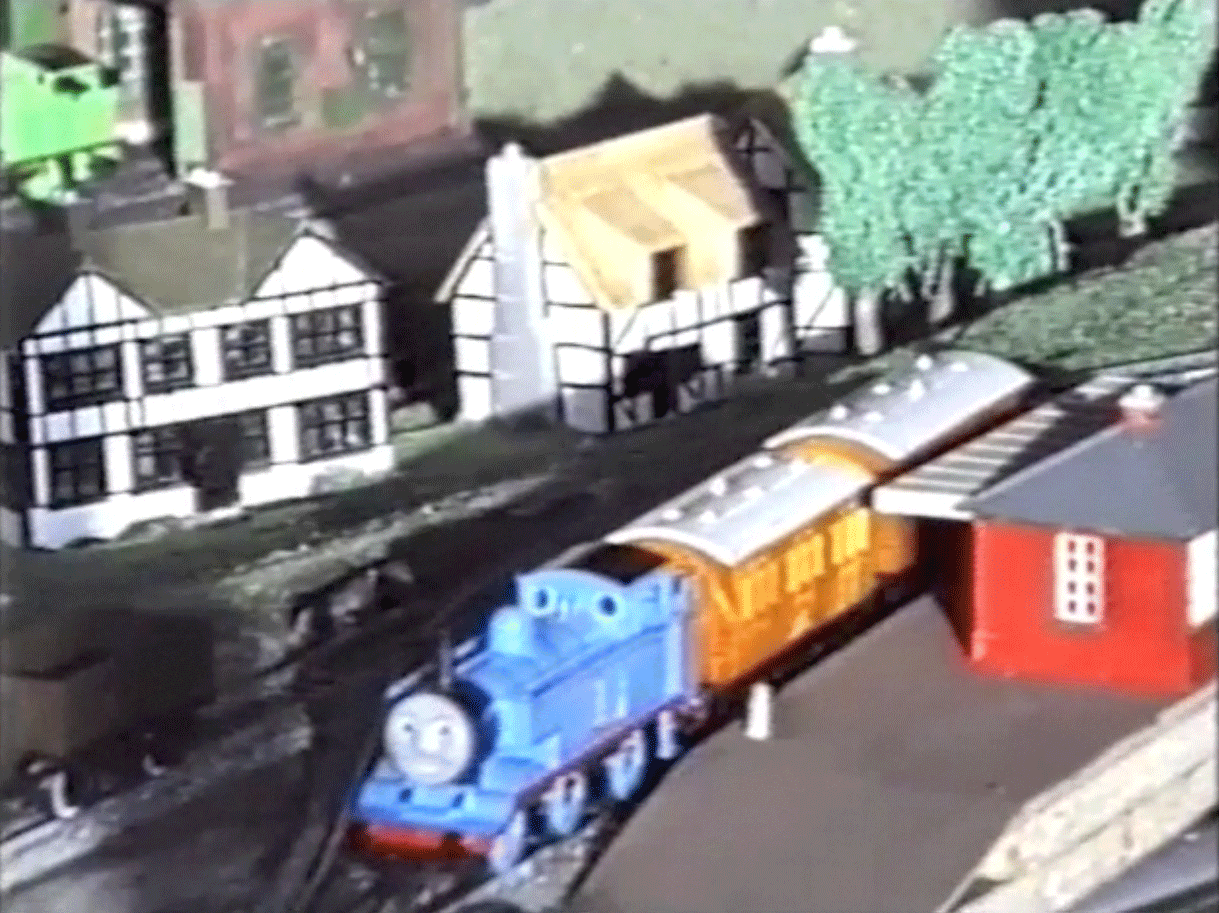 ---
Son of Challenge.
---
Ardson
It is believed that every "Personality" loco from children's fiction (except for narrow gauge items) was represented on this layout. Here are a few of the more unusual ones.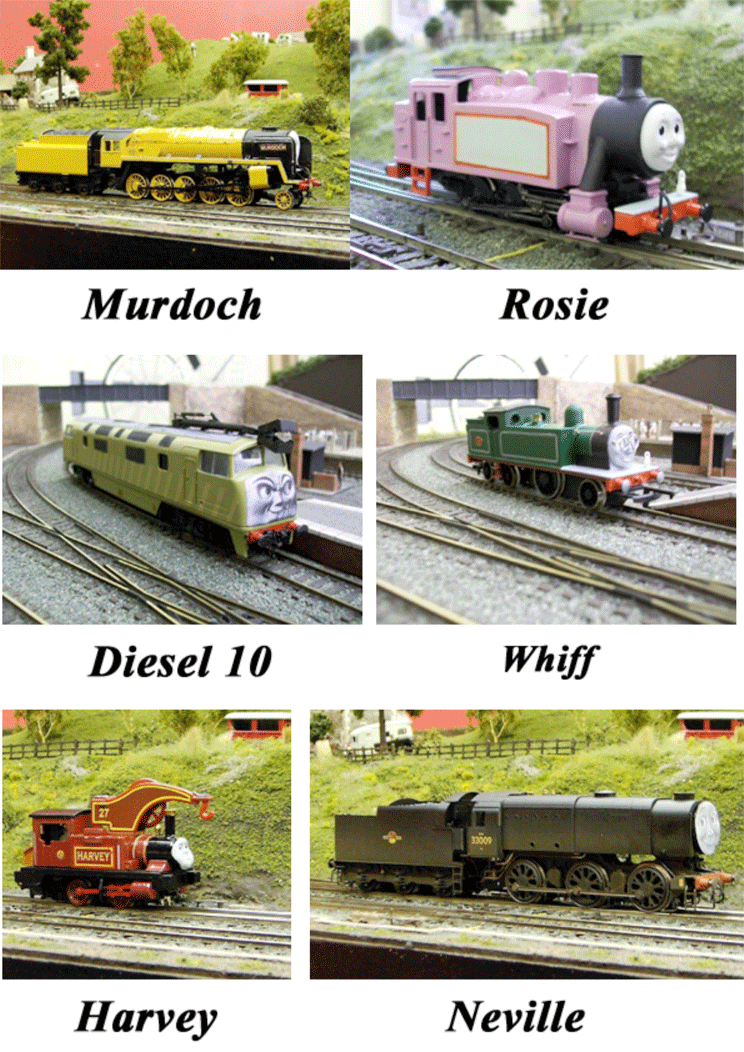 More pictures and an article may be seen by clicking Simply Trains
---
Ouzel Thorn
By former member Keith Nicholls, this 7 mm scale Narrow Gauge layout is atmospheric scenic modelling at its best.
---
Pont y Moggin
Early days on Neville Davies' SM32 garden layout (mid 1990s) Radio controlled live steam and internal battery power.
Where date information is shown on the video it is incorrect (bad Cameraman!).
---
Bee Lane
This 20′ x 9′ layout represents the West Coast Main Line just south of Preston at Farrington Curve Junction. It depicts the main lines and the diverging Blackburn and Ormskirk routes with a slightly simplified track plan. Two of the main running lines have been modified for DCC operation of locos and points. The masts and catenary are scratch built with infra-red operated 4 aspect colour light signals.
This layout is now retired.
Photos by Tony Wright, British Railway Modelling; last two, club photos at an exhibition.
---
Maudland Sidings
This is a truncated model of Maudland sidings, Preston, in early BR days. These sidings, which no longer exist, were at the western end of the Longridge branch where it diverged from the West Coast main line just north of Preston station.
Originally this fine scale "OO" layout, the scenic part of which is 'L' shaped 12′ x 8′, was intended to be run end-to-end re-creating the operation of the Preston to Longridge branch. However, it was more convenient to join the two ends together by means of one large fiddle yard (recently widened). This provides the possibility of continuous running if so desired and is especially attractive on club running nights when it is not always the intention to re-create prototypical end-to-end operation of the branch and two trains, of almost any type or region – reflecting the different interests of members and what stock they have chosen to bring along – may be seen running at the same time
The scenic part of the layout includes the junction where the branch diverges from the West Coast Main line just north of Preston. The Lancaster Canal and various road bridges may be seen. Various buildings that could be seen in the area during the 1950s, have been modelled. These include the terraced housing of the area, St Peter's Church, Preston No 5 and Maudland Curve signal boxes, the goods shed, soap works, sawmill, and the Bridge Inn. A modified model of St Peter's school, our previous club rooms, may be seen to the left in the 1st picture below.