By Les Nehrlich
The way I tackle weathering of the WD Hospital bogie van belonging to Stan Williams…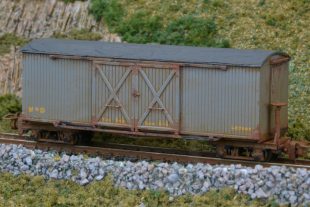 I only use simple paint brushes, (no airbrushes or powders). These are cheap brushes from places like Poundland, Wilkinsons etc as long as they have very soft bristles.
I use enamel paint as even after 24 hours you can wash it off with white spirit if you have messed up. I don't use acrylic paint as although it is water based it dries within an hour and can't be washed off. It is the same paint as used in house decoration which can be scrubbed.
Next on list is white spirit which is used to thin the enamel and clean brushes. I don't use Turps as it tends to be greasy and is not as refined as white spirit.
Before starting the weathering of the van, the roof of van was covered in tissue paper to give a textured finish to represent the canvas covering on the roof. Once dry it was painted dark gray. A base colour is mixed using MATT 62 (leather) and MATT 33 (matt black) in a ratio of approx 5 x62 to 1 x33. This is for everything below footplate/floor level (wheels, chassis,buffer stocks etc). Once all below floor is painted leave to dry overnight.
Another base is mixed but 50% white spirit added. This is used as a wash on the body sides and ends. When wash has been applied immediately wipe paint off with a tissue from roof down, this will still leave paint in all the nooks and crannies, leave to dry. If heavier weathering is required repeat the wash after the first wash is dry. With thin washes you can stop when happy with finish.
Detailing is carried out using rust colour paint IE Phoenix p951(dark rust) for brake shoes and p977(track colour) for rust on metalwork. Paint can be mixed to make darker or lighter rust.
Dry brushing using base colour is applied to the roof over the gray.
A tip before weathering is to protect any lettering/numbers on the model. I use Johnstons CLEAR. Just applied with a broad brush over sides and ends to protect lettering from the white spirit. How do I know this happens? I also use CLEAR on coach sides after weathering as it gives a dull shine covering all the muck.